The allure of the South Pacific has always been strong, a magical playground for those weary of the hustle of Northern Hemisphere life. A tranquil getaway, where time moves more slowly, and an unhurried pace of life is the ultimate result. One may even think that places like this are the stuff of screenplays or dreamers, but the reality is that it exists.
New Zealand has long held the fascination of the world, with its jaw dropping scenery and its diverse environments. It is a country which is held in high regard and the colours of its waters and its pastures are perfectly dreamlike. The light, some will comment, the light is different from the rest of the world, it gives New Zealand's scenery a God zone quality that is well deserved.
Arrival from most visitors to New Zealand is into the metropolitan city of Auckland, dubbed the city of sails due to its maritime history and literally, the number of pleasure craft, yachts and ships that traverse the Waitemata Harbour.
The Waitemata Harbour is part of the wider Hauraki Gulf, which is expansive and within this aquatic environment you will find over a dozen islands. From Rangitoto Island that dominates the city's view, to the idyllic Rakino Island and onto the winery mecca that is Waiheke Island. All of these wonderful distractions are only a short ferry ride from the central city.
Auckland is home to a diverse community numbering a little over 1.6 million people. It is small by world standards, but just enough of a population to inject this fabulous seaside city with verve and a culture that is unlike anywhere else. The restaurants are innumerable and the quality of the food is divine, while the activities available range from serene walks through native bush and beach, through to heart pounding bungy jumps from the Sky tower or Harbour Bridge – let's face it, infrastructure needn't be boring!
The central CBD of Auckland City boasts a wonderful array of inner city apartments that, if chosen well, can provide easy access to city life, while still providing extensive city and harbour views. Move to the east, west or south of the city and city fringe villas mixed with substantial homes dominate. Living in these areas provides inhabitants with a short commute to the city and community feel that manifests itself in weekend markets, fairs and concerts in the parks that permeate the area.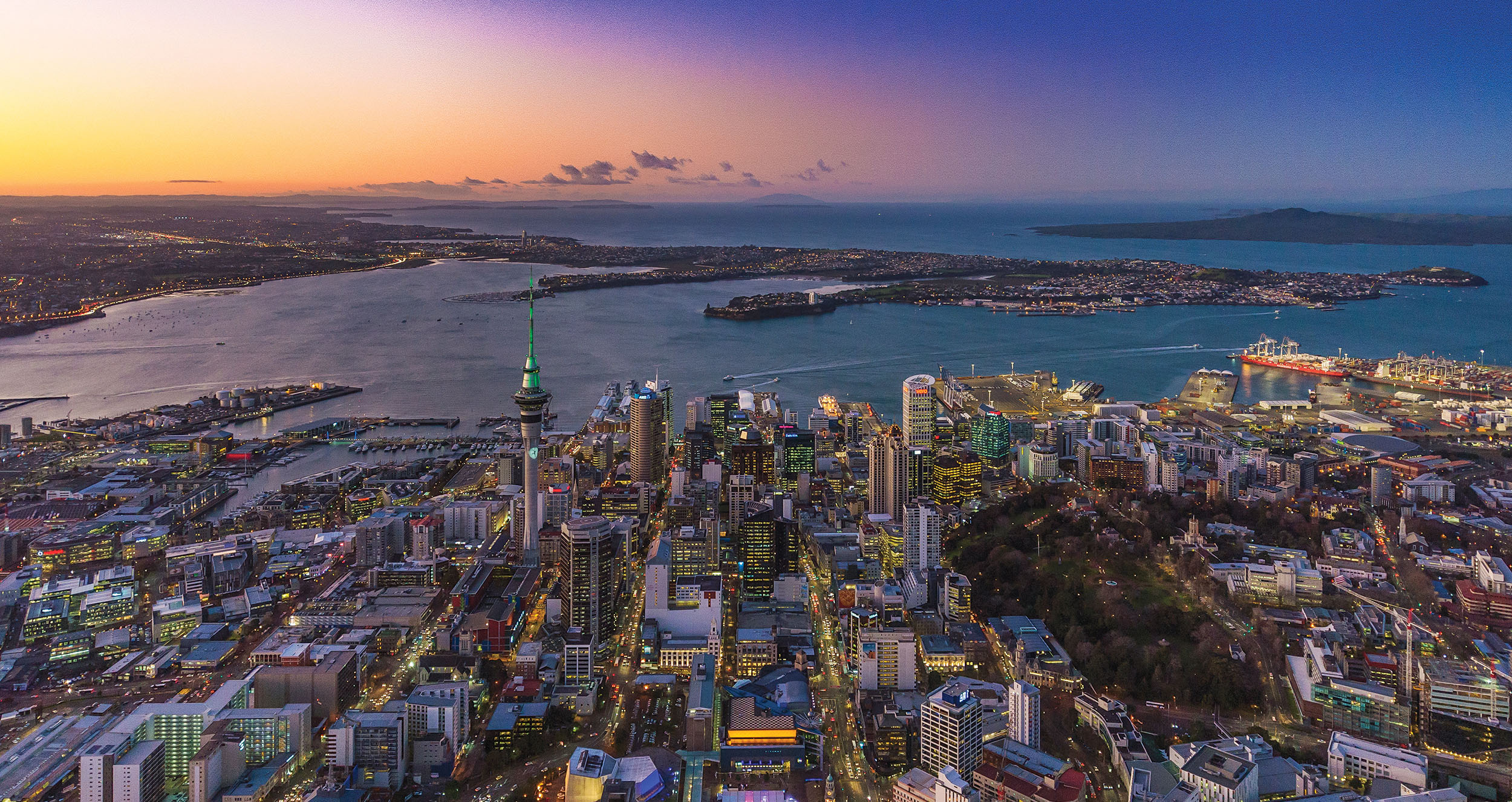 Moving north of the city becomes a journey of discovery that usually takes the new traveller to Auckland sometime to make and when they do it is often accompanied with the obligatory, "why didn't we come here sooner!"
Accessed from the Auckland Harbour Bridge or by ferry, the North Shore of Auckland City is a jewel, dominated by pristine beaches and beautifully quaint seaside villages. The first stop for most will be the historic Northcote and Birkenhead Points, which prior to the building of the Auckland Harbour Bridge in the late 1950's, were frequented by ferry's laden with visitors and residents alike. With majestic views of Auckland City's iconic skyline, harbour bridge and looking up the Waitemata Harbour to Devonport, North Head and that impressive vista of Rangitoto Island. These magnificent points, with extensively renovated villas interspersed with contemporary architectural homes, also has the added asset of having a westerly aspect, out towards the native bush covered Waitakere ranges. As the day winds down the sun starts to nestle into these wonderfully lush hills, allowing you to capture some of the most amazing sunsets on planet earth.
Devonport itself requires special mention, as it is one of the most beautiful and historic villages on the North Shore. With easy access to the city across the harbour via the ferry system, Devonport boasts an eclectic array of cafes, shops and of course wonderful properties. From classic turn-of-the-century renovated villas, through to the most contemporary of designs, this sleepy seaside hamlet is a true joy for the senses. The history that permeates Devonport brings the North Shore's importance in Auckland's history into sharp focus, including its deep connection to a proud Naval past and present.
On from here the seaside town of Takapuna beckons with its high rise apartment living, which allows the lucky owners to take in 360 degree views of the Auckland region that simply astound. Although high-rise living in Takapuna is limited to only a few high-end developments like the Sentinel, this allows Takapuna to retain a charm and a pace of life that is perfectly suited to its seaside position. With one of the best Auckland beaches at its doorstep, Takapuna boasts shopping, nightlife and lifestyle that is unparalleled. Living here means the need to go to Auckland City is minimised, yet the city is only a short distance away when needed. The locals will tell you that after a busy day of meetings in the city coming back home to the North Shore feels like going on holiday … everyday!
Beachfront property in Takapuna is gorgeous; the homes are blessed with a northeast aspect that provides for glorious sunrises over Rangitoto Island in the morning. Easy access to a number of beaches from the same location can include, Takapuna Beach, Thornes Bay and Milford Beach, not to mention a number of local secret spots that make you feel like you've stumbled upon paradise.
Takapuna opens you up to the East Coast Bays; stretching north you will encounter beaches with seaside villages like Milford, Mairangi Bay, Browns Bay and Long Bay. The property available in these locales is as diverse as the populations and often large sections are available with truly stunning views of the Hauraki Gulf, the islands and yes, even views back to Auckland City's skyline. Add to this the wonderful parks, recreation facilities, golf courses and excellent public and private schools and it's a wonder the population isn't a lot bigger.
Further north you will find the idyllic locations of Dairy Flat, Matakana, Omaha and Waipu. These areas range from exclusive country living in Dairy Flat, to laid back market town living in Matakana and simply spectacular beach side living in Omaha, with its white sand beach and access to top quality vineyards. Less than an hour's drive from Auckland City and you can lose your stress and lose yourself in premium living at its very best.
The surge in high-end properties has placed New Zealand at the top of the desirability list. Buyers of New Zealand property include self-made entrepreneurs to captains of industry, from tech titans to those wanting a safe place to raise children.
It's important to understand the open nature of the local property market, with no capital gains tax, no stamp duty or wealth tax. New Zealand welcomes overseas investment in its residential market and buyers will often comment on how "undervalued" property is.
New Zealand has a lot to offer, but with a little local knowledge the opportunities north of Auckland City are too good to resist. There are few restrictions to setting yourself and your family up in this fantastic way of life and with the right property partner; you too can share in a premium lifestyle.
Home to ancient native forests, clean and glimmering coastlines, powder-snow mountain peaks, and clear blue skies, New Zealand is surely one of the most beautiful countries in the world.
New Zealand's natural beauty has shaped the lifestyles of many New Zealanders. A five-minute stroll to a clean, unpolluted beach, magnificent sea views, fresh sea air gently breezing through your living room — this is day-to-day life in many of New Zealand's major cities. It's easy to see why New Zealanders so highly value the natural environment.